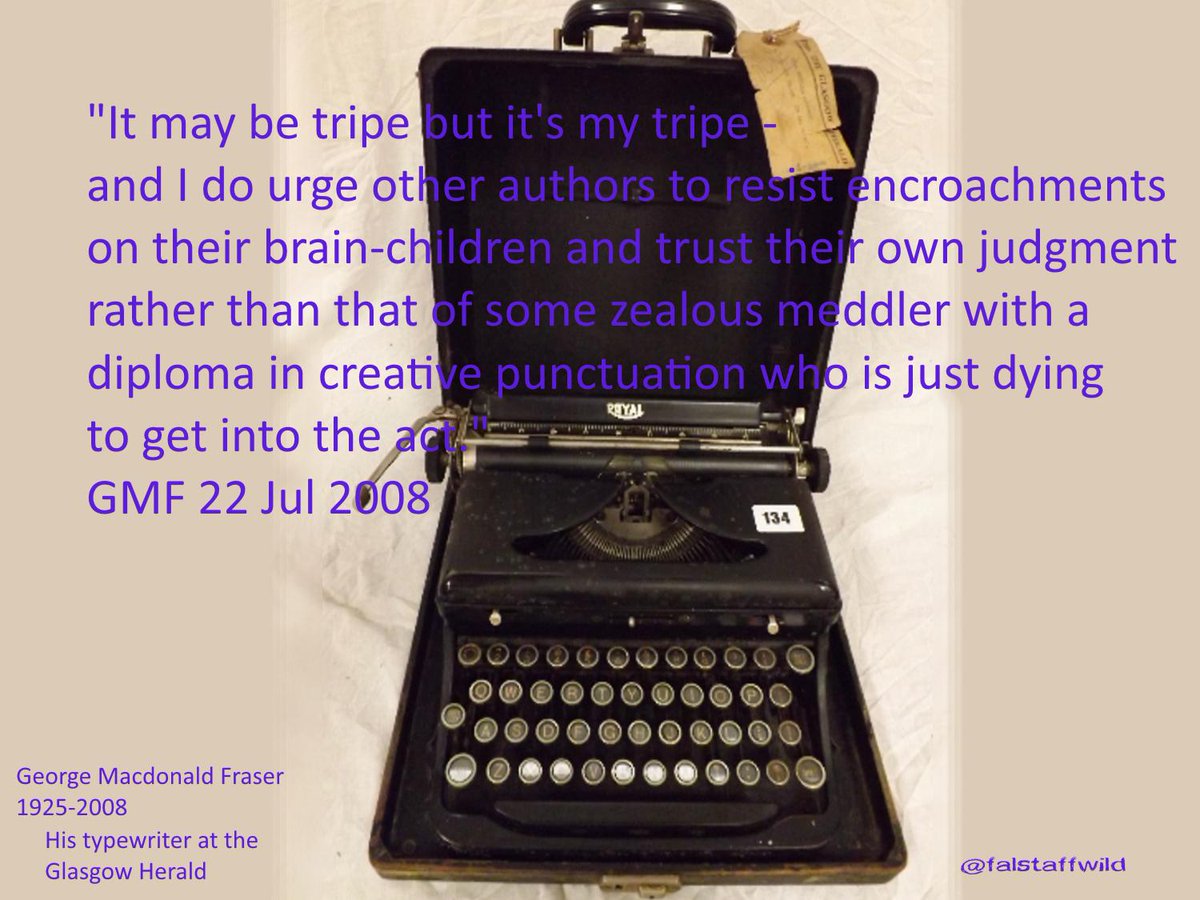 George Macdonald Fraser 1925-2008
His old typewriter from the Glasgow Herald come up for sale at auction recently.
"It may be tripe but it's my tripe – and I do urge other authors to resist encroachments on their brain-children and trust their own judgment rather than that of some zealous meddler with a diploma in creative punctuation who is just dying to get into the act."
Book One From the continuing Adventures of Falstaff Wild
Extract:
Falstaff Wild got up and poured himself a drink. He felt sick. He looked at Minami in a new light, he didn't look right. The Japanese man was far too friendly. Maung as a Burman was too accepting. Surely it wasn't too incredulous that Minami, as a Japanese, was lying? Except Maung was Asian and seemed to trust his fellow Asian and his fellow journalist, the Japanese Minami.
Minami had either gone native, which seemed unlikely, his newspaper could recall him at any time or he was a spy worming his way into Burma society. A man with a mission in Burma and nothing to do with him at all; not part of the pursuit that had brought down the Japanese on the town. Selfishly he smiled with relief.
Falstaff's first thought was one of joy. Could it be true he was no longer a target himself? Standing he reached for the bottle, thinking it over. He had escaped, but what did Minami's presence mean?
If Minami said one word about co-prosperity, he'd know what he was about he decided. Falstaff realised he was standing staring at Minami with the bottle in his hand. He wished he could smash the bottle into the Japanese reporter's face.
"I'm sorry, I'm being rude, can I offer you another drink?" Falstaff said at last. "Good health!"
Other Territories :
Amazon.co.ukAmazon.deAmazon.jpAmazon.in Amazon.com.auAmazon.ca